Springhouse has a well-cared for and beautiful space located on 11 acres. During the school year, it is home to our Day School, but in the early mornings, evenings, weekends and the summer, that space is available for your next event or meeting.
Our facilities include: 
Great Hall with folding tables*, chairs* and a speaker system
Meeting room with tables, chairs and white board

Kitchen

Bathroom

Two outdoor decks (one covered)
Front and side patios

Meeting room with cushions on the floor 
*Available upon request
Cleaning Fee
A security deposit of $150 (in the form of a check) will be required before use of space. If the building is returned to its original condition, the deposit will be returned within 14 business days.
Pricing
Springhouse is committed to serving our community with intentional accessibility, and, other than security deposit, financial contributions are self-determined. We see your financial contribution as an investment in our vision and mission. You can read a more detailed overview of our economic model and review our operating budget here. To inform what you contribute, we provide cost-estimates and value comparisons (see table below).
Availability
Please complete this form indicating your interest and contact information. We will be back in touch with you soon!
If you have any questions, please reach out to the Development Director, Carolyn Reilly.
We estimate that it costs us a little over $42,000 annually to maintain the facility.
After researching local rentals for comparison, we developed the following table to estimate the value of the space: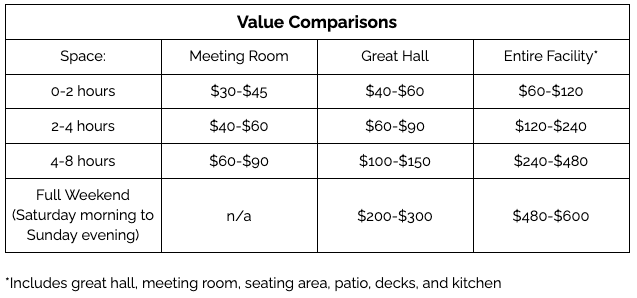 Please contact Chris Wolf, chris@springhouse.org, with any questions regarding the determination and payment of your financial contribution.